Summer Travel Beauty Essentials
This site uses affiliate links and I may earn a small commission when you use my links and make a purchase, at no extra cost to you. Many thanks for supporting this website!
Now that it's officially summer, I hope you're in the midst of planning some fun, warm-weather getaways!  Thankfully, summer travel calls for pretty easy packing.  Sundresses, shorts, suits and sandals…and you're good to go.
Related: My Best Packing Tips for Women
But what about packing makeup, skincare, and hair products?  It's so easy to overload (and weigh down!) your suitcase with toiletries. 
Summer Travel Beauty Essentials: Packing Tips
When it comes to packing toiletries for summer travel, less is more!  It's easy to fit everything in a carry on bag by following two simple rules.
First, look for beauty products that aren't liquid.  Sunscreen?  Find a stick.  Self-tanner?  Look for towelettes.  This way, you'll be able to pare down your liquids to fit in a one-quart bag.
Second, look for products that don't require a brush to apply.  Leave your eyeshadow and blush brushes at home, and your suitcase will be that much lighter!
Related: Packing Beauty Products for Travel
Third, look for products that will give you low-maintenance style.  Nobody wants to spend their vacation in the bathroom with a blow-dryer.
Here are a few favorites that I know will be my summer travel beauty essentials this season!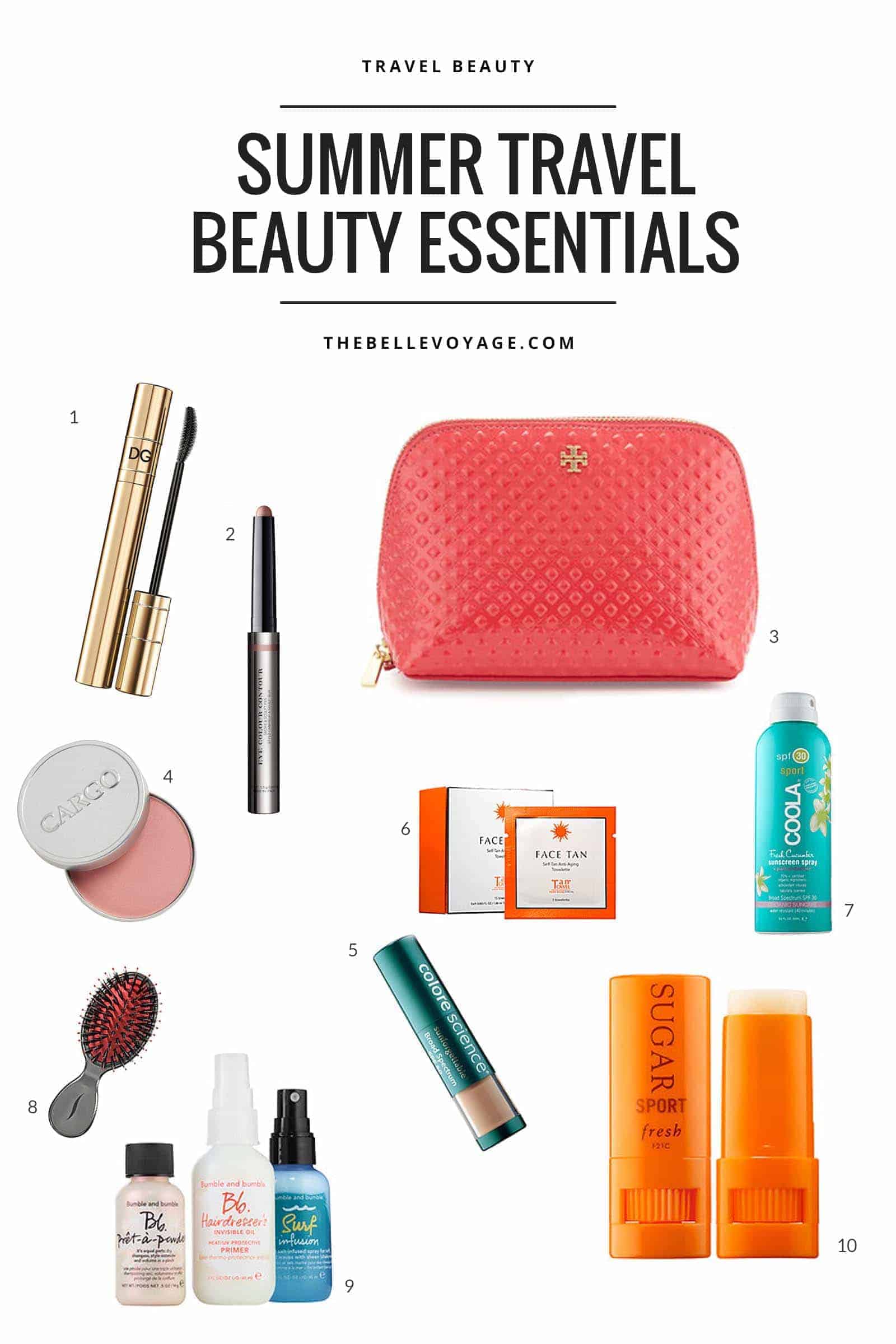 one / two / three / four / five / six / seven / eight / nine / ten
Summer Travel Makeup
When it comes to makeup for summer travel, I have two rules of thumb:
First, I look for makeup that doesn't require a brush.  If I can apply it with my finger, it's a good bet that I'll be bringing it.
Second, I'm all about waterproof products, which will last through water (der), sweat, showers….you name it.  Start with waterproof mascara, and you've already won a battle with the beach.
I just got this eyeshadow stick the other weekend, and brought it with me on my recent girls trip to Hawaii.  It has a perfect summer shimmer, and I know it'll be a favorite this season.  Best of all: no brushes needed!
Same goes for this Cargo blush.  I can leave my blush brush at home.  It's also waterproof (!!!) – meaning I won't sweat through it in five seconds.
Toss it all in a cute makeup bag and you're good to go.
Hair Products for Summer Travel
Heat and humidity make any sort of hairstyling effort a waste of time, so I try and shoot for as close to wash-and-go as I can.
A quick rake through wet hair with a travel-size brush, and a spritz of sea salt spray is about all I need!
Summer Travel Skincare & Suncare
We all know that rule number one is to Protect Thyself From Sun.
The other day, I saw that my favorite sunscreen, Coola, now comes in a travel-size spray can.  YES!!  I love Coola sunscreen because it doesn't have that sunscreen smell to it.  Like, AT ALL.
I didn't think this was even possible until I tried it myself.
For options that won't take up space in your liquids bag, Colorescience also makes amazing mineral powder sunscreen that's perfect to toss in a suitcase.  Fresh's sunscreen stick is another good pick.
And in the spirit of fake-it-til-you-make-it, these self-tan towelettes will give you a beach-worthy glow before you've even left home.
Wanna Learn to Pack a Suitcase Like a Boss?
Subscribe to download my three BEST travel planning resources:
Travel outfit planner
Pre-travel checklist
Carry on packing list